The Best Seat for Your Child: Four to Eight Years Old
Minnesota's law regarding booster seats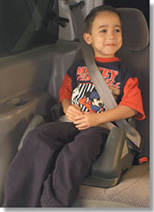 Booster seats are used by children who have outgrown a car seat with a harness. Most children under the age of eight are not big enough to fit the adult seat belt properly. In fact, they can be injured by the belt in a crash. A booster seat makes an adult seat belt fit correctly on a child's body. The booster's design helps keep the lap belt low on the hips and the shoulder belt across the chest (rather than across the neck). It also makes children more comfortable: the raised base gives them a better view and allows their legs to bend normally. There are two types of boosters: high-back and no-back.
Make sure the booster seat you use is approved for use in a motor vehicle, and check labels and instructions. Booster seats designed for use at a dining table do not keep kids safe in a crash.
If the child's ears come above the top of the vehicle seat back, or the vehicle seat does not have a headrest, use a high-back booster.
If the booster seat comes with a clip or strap to hold the shoulder belt in place, make sure to thread it correctly.
Use a booster seat until the child reaches the upper weight limit or can pass the seat belt fit test. The lap belt should stay low on the hips and the shoulder belt should cross the chest and shoulder comfortably. Most children do not fit the adult seat belt until ages eight to ten, and approximately 4' 9" tall.
NOTE: Shield boosters were manufactured more than ten years ago and should not be used.
Source: Buckle Up Kids! A Guide for Choosing the Right Child Safety Restraint and Instructions for Correct Use, Minnesota Child Passenger Safety Program

Child Car Seat Ease-of-Use Ratings: www.safercar.gov/parents/CarSeats/Car-Seat-Ratings-Ease-Of-Use.htm




Protect children from traffic injuries. You can do it!