The Best Seat for Your Child: Eight Years and Older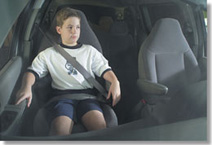 Seat belts
Children are typically ready for the vehicle's seat belt when they are four feet nine inches tall or taller and around age 8 (not before age 8).

If you can answer "Yes" to the following questions, the child is ready for an adult seat belt:
Does the child sit with his/her back against the vehicle seat back?
Do the child's knees bend comfortably around the vehicle seat edge?
Do the child's feet touch the floor?
Does the seat belt rest on the shoulder (not on the face or upper arm)?
Does the lap portion of the belt stay low on the hips?
Can the child ride comfortably in this position for the whole trip?
If you answered "No" to any of these questions, the child needs a booster with the lap and shoulder belt.
Source: Buckle Up Kids! A Guide for Choosing the Right Child Safety Restraint and Instructions for Correct Use, Minnesota Child Passenger Safety Program

Child Car Seat Ease-of-Use Ratings: www.safercar.gov/parents/CarSeats/Car-Seat-Ratings-Ease-Of-Use.htm




Protect children from traffic injuries. You can do it!