The Best Seat for Your Child: Birth to One Year Old



Infant seats
Convertible seats

Infant seats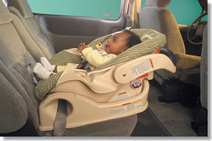 Minnesota law requires that babies ride in rear-facing infant seats until they are at least one year old and 20 pounds. Note: The American Academy of Pediatrics (AAP) recommends that babies should remain rear-facing until they are two (2) years of age or until they reach the highest weight or height allowed by their car safety seat's manufacturer. (Check your car seat instruction manual or seat label for your seat's weight and height limits for rear-facing use.)
Some infant seats have detachable bases.
Usually fits a newborn well and some may be the best fit for premature babies.
Long babies may outgrow this seat before they reach the upper weight limit (22 - 40 pounds, depending on the seat; check label for weight limits).
Use infant seat only until baby's head comes within one inch of the top of the shell; then change to the convertible seat. Use it rear-facing until the baby is at least one year old and 20 pounds. (See below.)
Make sure the infant safety seat is approved for use in a motor vehicle. Check the label and instructions.

Convertible seats (rear-facing)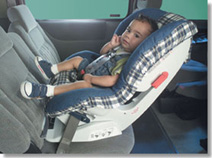 "Convertible" means the car seat can be used facing forward or to the rear.
When babies have outgrown infant seats, use rear-facing convertible seats up to 40 pounds (this varies by manufacturer, so be sure to check the seat's instructions).
Three types of convertible seats
Five-point harness. Contains two shoulder straps, two hip straps and one crotch strap. Many safety experts prefer this system because the straps can be adjusted to fit snugly across the child's strong hip bones.
What to watch out for: Straps may twist or tangle – keep them flat for best protection.
Tray-shield. Shoulder straps attach to a wide, padded shield that swings up.
What to watch out for: Some shields may not fit over the child's head unless the straps are adjusted each time. It may be hard to get a snug fit on the child's hips. In some cars, the roof may be too low so the shield cannot be lifted all the way.
T-shield seat. Do not use this seat. These seats were manufactured more than ten years ago, which is too old to use.
Source: Buckle Up Kids! A Guide for Choosing the Right Child Safety Restraint and Instructions for Correct Use, Minnesota Child Passenger Safety Program

Child Car Seat Ease-of-Use Ratings: www.safercar.gov/parents/CarSeats/Car-Seat-Ratings-Ease-Of-Use.htm



Protect children from traffic injuries. You can do it!